My Certifications as personal trainer
Genetic bases programme design
As a DNA-based fitness coach, i will be one of the few trainers able to successfully lead clients to achieve their goals based on their DNA. With my knowledge of fitness and nutrition, i will be able to adjust your program to the clients DNA.
This powerful tool and inside knowledge will set myself apart from all other trainers. The biggest win, reduce customers frustration of not seeing results.i will help the clients to adapt their fitness and nutrition needs that best suits their body by results of DNA testing and thier genetic makeup.
My practice is to use methodologies aimed to improve lifestyle choices that enhance health and fitness outcomes. The use of genetic testing in these professions will influence recommendations for strength and cardio training, macronutrient percentages, portion sizes, and timing of meals. Fitness and nutrition professionals should always work with a client's healthcare provider when designing programs and should always refer a client to the appropriate medical professional for any condition identified by the client.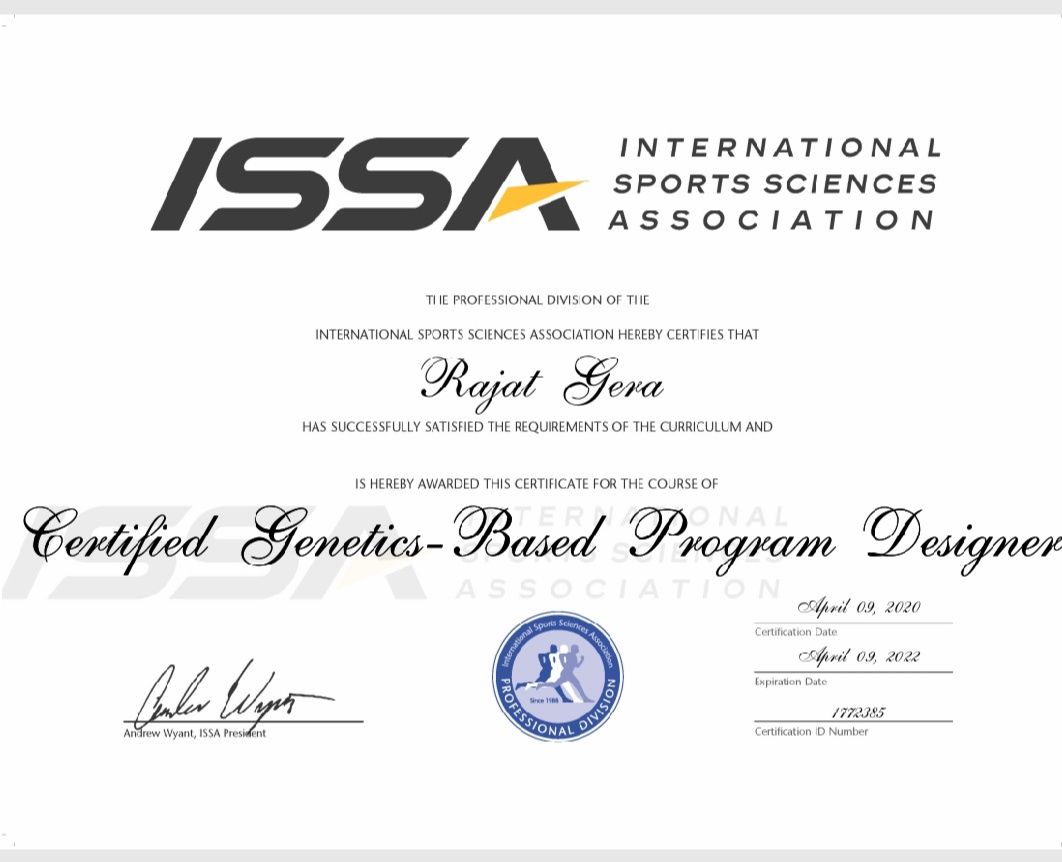 Describe your certification here
ISSA Certified Fitness Trainer
It's no secret - fitness training has been proven to prevent disease, strengthen your health and improve your confidence and outlook on life. As a certified fitness trainer, I'm deeply trained in everything from muscle mechanics to flexibility and cardiovascular dynamics. So if you want to live a stronger and more confident life, I've got the training and the expertise to help you every step of the way.
ISSA Certified Genetics-Based Program Designer
Whether your goals are weight loss or athletic performance based, your genetics are the only constant the workout program should be based on! As a certified specialist in this area, I can provide you with the genetic test to uncover your individual needs. Based off those results I can build a personalized fitness and nutrition program removing all the guesswork to help you achieve your goals.